FOREFLIGHT + JEPPESEN FOR FLIGHT DEPARTMENTS
ForeFlight's advanced integrated flight app technology combined with Jeppesen's world-class aeronautical data products gives your flight department a single solution for flight planning, weather, charting, documents and device management needs.
Learn more about ForeFlight for Business Aviation.
New

Jeppesen Charts on ForeFlight Web  

Purchase Jeppesen chart coverages for use on ForeFlight Mobile, ForeFlight Web and Dispatch, or both to flexibly integrate them with your team's flight planning workflow. Get started on ForeFlight's App Subscriptions page to buy individual mobile or web coverages with pro-rated pricing and flexibly assign them to your users. You can still purchase Web-only Jeppesen chart coverages through ForeFlight even if you've already linked your Jeppesen subscription to view your charts in the Mobile app.

Note: ForeFlight Web does not currently support Jeppesen VFR or IFR enroute charts, only terminal procedure and taxi charts and Jeppesen Airway Manual documents. Enroute chart support will be enabled in the near future.

Buy Mobile/Web Jeppesen Charts

 
App: Jeppesen Charts on The Go
View Jeppesen enroute and terminal charts and Jeppesen Airway Manuals in all the familiar ways in ForeFlight Mobile, whether for flight planning or inflight reference.
Web: Jeppesen Charts on Your Desktop
View Jeppesen terminal charts from any airport popup on the Maps or Flights pages or in Dispatch, and download Jeppesen Airway Manuals from the Documents page.
More Power & Productivity to Flight Departments
Connecting your Jeppesen chart subscriptions to ForeFlight means one less app you have to manage. Consolidate your toolset and bring more efficiency to your flight department and electronic flight bag program.
Watch the video
Jeppesen charts are available as an option in Business Pro and Business Performance plans.
ForeFlight & Jeppesen are Better Together
Jeppesen's best-in-class global navigation, terrain, and obstacle data comes standard in all plans, and makes ForeFlight's advanced mobile hazard awareness technology better than ever.
GLOBAL SYNTHETIC VISION
ForeFlight's Synthetic Vision will use Jeppesen's high-resolution terrain data sets, designed for use in certified panel-mounted avionics, and will be available worldwide to all customers who have Synthetic Vision.
FMS-GRADE NAVIGATION DATA
Jeppesen's world-class NavData® improves data consistency between the mobile device and installed avionics*, enhances features like data-driven Aeronautical Maps, and expands Procedure Advisor to airports around the world for all customers.
GLOBAL HAZARD AWARENESS
ForeFlight's Hazard Advisor map overlay and Profile view will integrate Jeppesen's worldwide obstacle data giving you a clear picture of any terrain or obstacle hazards ahead, anywhere you fly.
*Please note that the Jeppesen NavData® in ForeFlight is separate from Jeppesen NavData® for installed avionics, which requires a separate subscription from Jeppesen.
New

 Simplified Jeppesen Coverages via ForeFlight

The new Jeppesen chart coverages available only via ForeFlight simplify coverage boundaries and include all civilian Jeppesen charts for each region, enabling true worldwide coverage as part of your ForeFlight subscription. Coverages include departure, arrival, and terminal procedures, airport charts, data-driven enroute charts, and Jeppesen Airway Manual supplements.

Contact ForeFlight's Sales team to purchase the new Jeppesen charts as part of your ForeFlight Business subscription. You can still purchase coverages through ForeFlight even if you have a linked Jeppesen account. Chart coverages purchased through ForeFlight can be installed on both devices a user is entitled to, either two iPads or one iPad and one iPhone.

WORLDWIDE
---
USA+
---
Canada & Alaska
---

North America
---
Latin & South
America
---

Europe IFR + VFR
---

Eurasia
---

Africa
---


Middle East
---

Pacific
---
Australia & New Zealand
---
Worldwide Jeppesen Charts for Flight Departments
With coverages that span the globe, customers flying outside of North America have more options to use ForeFlight and take advantage of the increased safety, efficiency, and situational awareness that ForeFlight provides. Coverages include departure, arrival, and terminal procedures, airport charts, data-driven enroute charts, and Jeppesen Airway Manual supplements.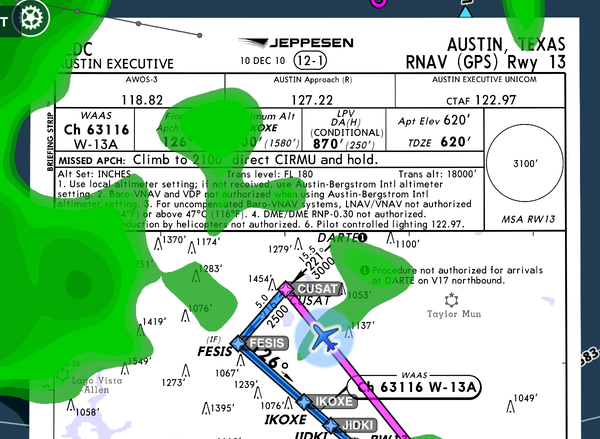 Geo-referenced Procedures
Jeppesen terminal, SID and STAR charts are seamlessly integrated into many of ForeFlight's innovative features like Plates on Map and chart color inversion.
Data-Driven VFR & IFR Enroute Charts
Jeppesen enroute charts are dynamic, responsive, customizable, and fully paper replacement capable. Download the entire global data set as part of any coverage.*
Airway Manual Supplements
Jeppesen Airway Manuals are a valuable resource that accompany your Jeppesen chart coverage. Download the Manuals from the ForeFlight Documents catalog.
Watch the video: Link An Existing Jeppesen Account
Link Your Jeppesen Subscription
In addition to purchasing the new coverage options as part of your ForeFlight subscription, you can also link an existing Jeppesen account to allows your pilots to view and download its chart coverages on their own devices. Log in to ForeFlight's account management portal to link, unlink, and manage available Jeppesen coverages.