FOREFLIGHT 8 IS HERE
Global data-driven aeronautical maps, new and expanded planning and filing capabilities on mobile and the web, Logbook enhancements, and more.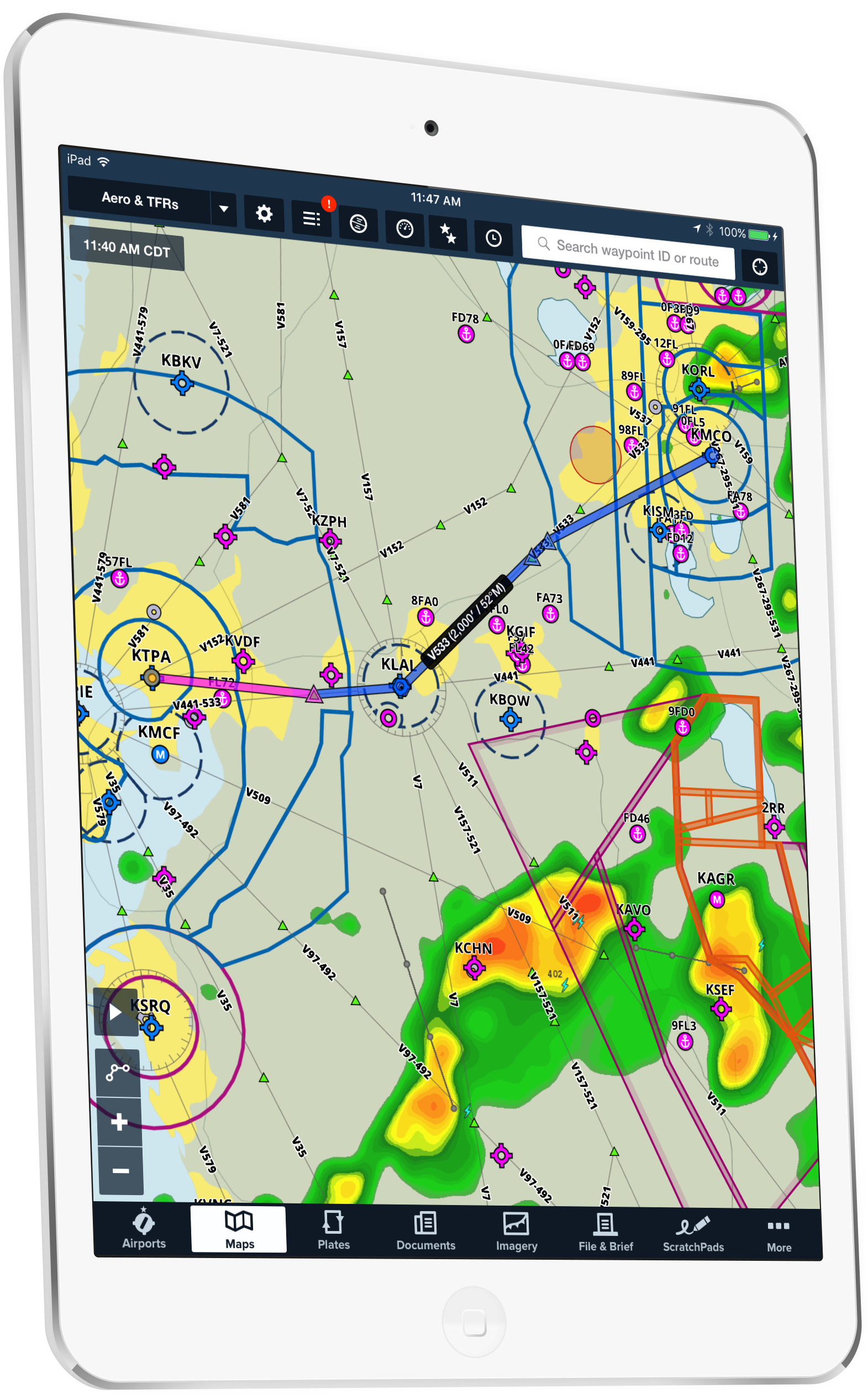 Global Data-Driven Aeronautical Maps
ForeFlight's Aeronautical Maps, available on mobile and the web, feature incredibly fast Continuous Zoom™ technology and dynamic decluttering, powered by a completely rebuilt map engine.
Aeronautical Maps smoothly render and scale when panning and zooming without having to load or refresh. Map elements and text simply fade in and out without losing clarity or legibility as the zoom level is adjusted. Dynamic 'always-up' labels make it easy to read the map from any orientation.
ForeFlight Aeronautical Maps is offered in our Basic Plus, Pro Plus, and Business Pro plans.
Get ForeFlight With Aeronautical Maps
This is the future of aeronautical maps, and there is nothing else like it on the market today.
— TYSON WEIHS CO-FOUNDER & CEO, FOREFLIGHT
WATCH: ForeFlight Global Aeronautical Maps
Useful Information At Every Zoom Level
Never lose the details to see the big picture—the right information is there at any zoom level. For example, when viewing the entire United States, major airports and ARTCC boundaries are shown; as you zoom in, Bravo airspace, VORs, waypoints, airways, and smaller airports materialize.
Smart Airway Labels make efficient use of the space between waypoints on an airway. As you zoom in, the labels dynamically expand to display magnetic bearing and the MEA.
Embedded Airport Diagrams
Zoom in to an airport and something amazing happens—the airport diagram appears on its own, complete with runway and taxi labels and even FBO locations. These are the same ForeFlight diagrams that you've come to know in the app, and which now allow you to see aircraft ownship directly on the map without having to open the published airport chart.
Major Enhancements to ForeFlight on the Web
As powerful as ForeFlight Mobile 8 is in its own right, it is even more compelling alongside ForeFlight on the web, which introduces many new capabilities for pilots and flight departments.
Start Planning On The Web Today
Aeronautical Maps Look Stunning on the Web
ForeFlight on the web makes it easier than ever to plan, file, and brief, manage aircraft profiles, generate Logbook reports, view Track Logs, and access account management functions—all in a beautifully designed desktop experience.
ForeFlight Aeronautical Maps is offered in our Basic Plus, Pro Plus, and Business Pro plans.
Get ForeFlight With Aeronautical Maps
Route Editor, NavLog, & Route Advisor
Familiar Route Editor and Navlog views make it easy to build and edit a route using text input or rubber band planning. ForeFlight's auto-complete search engine returns results as fast as you type based on waypoints, navaids, airport names, routes, and city names. Just like on Mobile, Route Advisor™ allows you to simply enter departure and destination identifiers into the Route Editor, then select from available route suggestions including airway, recently cleared ATC routes, preferred routes, or TEC routes.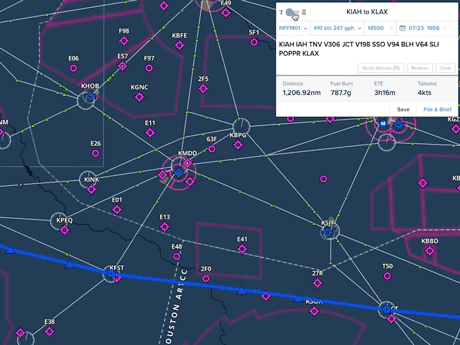 File & Brief On The Web
All of the same file and brief features you enjoy on ForeFlight Mobile are now available via the web. You can amend and cancel IFR plans and activate and close VFR plans –and it's all instantly synced to your mobile devices. ForeFlight's Graphical Briefing transforms the standard text briefing information and delivers it in a visually elegant design for better readability – and it looks amazing in the full desktop view.
Logbook Gives Rise to an Ecosystem
ForeFlight Logbook is more than just an electronic record of your flights. It's an interconnected ecosystem of pilot tools and services that makes it as easy as possible for you to maintain an accurate and current record of your flying by connecting your personal logbook with other services you rely on.
Get ForeFlight With Logbook
Flight Sharing
Flight Sharing makes it easy for you to send draft entries to those you fly with and also post to social media.
Remote Signing
A time-saver and a convenient feature for CFIs and student pilots. Students can send draft logbook entries to their instructor who can review, send back edits, or sign the entry, whenever and wherever it is most convenient. The instructor can also opt to add the flight to their own ForeFlight Logbook as 'Dual Given' time.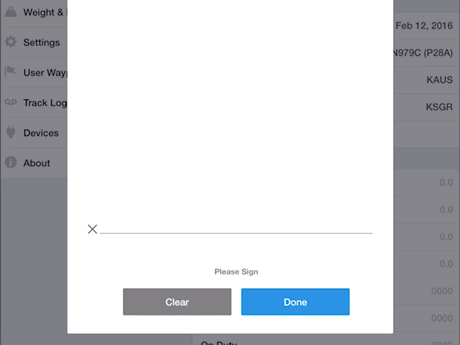 Logbook Connect
Logbook Connect enables third parties to link their services to the ForeFlight Logbook platform, giving you more freedom to access and manage your logbook data. Launch partners Redbird Flight and Schedule Pointe enable you to send draft entries from their respective dashboards to your logbook.
Progress Tracking
Progress Tracking Reports help you keep tabs on accumulated flight time towards your private pilot certificate or instrument rating. Like all Logbook Reports, Progress Tracking can be viewed, printed, or emailed via the app or on ForeFlight on the web.
ForeFlight Logbook is bundled in our Basic Plus and Pro Plus plans.
Get ForeFlight With Logbook Today
ForeFlight Connect Platform Continues to Grow
ForeFlight Connect expands to include the newly certified Stratus ESG and ESGi, Appareo's all-in-one ADS-B Out transponder solutions. Stratus 1S/2S devices can connect to Stratus ESG to take advantage of its auxiliary power for continual charging, as well as the transponder's externally mounted WAAS GPS and ADS-B receivers for maximum reception. In addition, ForeFlight is fully compatible with the Garmin GDL® 39, 39 3D, and 39 R ADS-B receivers.
TFR Alerts
TFR Alerts supplement the graphical display of TFRs with audible warnings and visual messaging overlaid on the moving map that warn you when you are approaching or have entered TFR airspace. Alerts are shown (and heard) whether you have the TFR map layer on or off.
Available Now
ForeFlight 8 is available for download on the App Store.
Log in to ForeFlight to access the enhancements to ForeFlight's web-based flight planner.