ForeFlight 13.4 
Now Available!
This release includes visual enhancements to 3D View, new Aeronautical Map elements, more weather imagery for European customers, and more.
DOWNLOAD FOREFLIGHT 13.4
ON THE APP STORE TODAY
Visit our video library for additional support and information.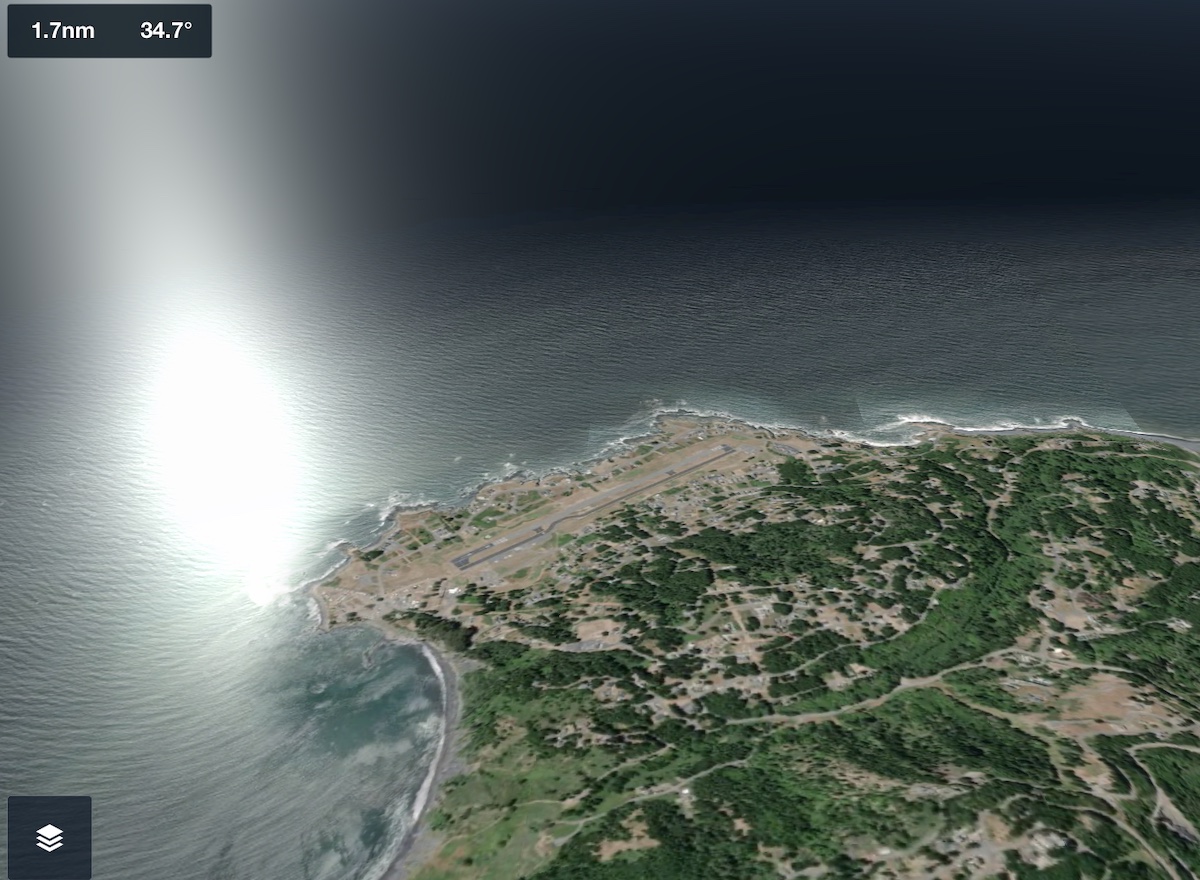 3D View Visual Upgrades
3D View looks better than ever with sunlight reflections on ocean water, subtle improvements to the sky's coloring, and more. The improvements appear in all 3D View modes: 3D Airports, 3D Preview, and 3D Review, all of which are included with ForeFlight Performance subscription plans.
Expanded Runway Analysis Support
ForeFlight's advanced Runway and Obstacle Analysis capability for jets now supports Textron's Citation CJ2 and 680A Latitude, Gulfstream's G550, G650, and G650ER, and two variants of Bombardier's Global 6000. Runway Analysis is available for a growing list of aircraft types as an add-on to ForeFlight Performance subscription plans.
Runway Analysis for Individuals
Runway Analysis for Business
Aeronautical Map Enhancements & New Synthetic Vision Button
ForeFlight's Aeronautical Map layer now supports additional types of airfield and navaid markers. Glider and balloon fields in the U.S. are marked on the map using magenta icons containing the letters G and B, respectively. Toggle these fields on or off using the "Other Fields" setting in Map Settings > Airports. TACAN navaids are also now shown on the map using a similar icon to VORTACs.
Also, the Synthetic Vision button in the Maps toolbar has a new look to better distinguish it from the adjacent Instrument Panel button.
European SIGWX Forecast Graphics
The European section of the Imagery view on mobile and web now includes standard and low-level SIGWX charts containing valuable forecast information. Standard SIGWX charts cover all of Europe, while the low-level charts cover Austria and Switzerland, Belgium, Croatia, France, Germany, Ireland, Romania, Serbia and Montenegro, Slovenia, and the United Kingdom.
German VAD & VADJET Military Charts
All European customers can now access VAD and VAD JET charts for military and civilian airports in Germany under the BUNDESWEHR section in Airport Procedures. The new charts are grouped together in the Downloads list under the Aerodrome Charts and AIP section.
Content Pack Effective Dates
Define Effective and Expiration dates for Content Packs in the manifest.json file and ForeFlight will display a warning in Plates and Custom Content when you view expired content. Both fields accept date and time information in the same format as the following example encoding midnight local time (based on the device's time setting) on June 1st, 2021: "20210601T00:00:00".
ForeFlight MFB: Improved Filing of AR Tracks
ForeFlight Military Flight Bag now formats U.S. aerial refueling tracks in your route more neatly and simplifies how you file them with ATC. ForeFlight no longer uses a series of "virtual" waypoints to construct large turns in AR tracks, allowing you to send routes that include these turns to the Flights view and file them without needing to remove such waypoints.
ForeFlight also automatically adds information to the Remarks field of the flight plan in accordance with the official guidance on filing AR tracks outlined in the DoD's General Planning Flight Information Publication.