CLOUDAHOY
Taking Flight Debriefing To Another Level
Enhance your post-flight debriefing by combining ForeFlight and CloudAhoy. CloudAhoy is designed to help pilots of any kind refine their flying skills, from PPL students to business jet drivers and everyone in between.
Get Started with CloudAhoy in 3 Easy Steps
 
Start Free Trial
Go start our risk-free 35 day free trial. No credit card required.
Download the App
Download CloudAhoy to your ipad or visit on the web & sign-in.
IMPORT TRACKLOG
Send your first track log from ForeFlight to CloudAhoy.
Post-flight Debriefing For Proficiency, Safety, and Fun
CloudAhoy brings technology to post-flight debriefing, adding value to any flight training, enhancing the experience of flying, and helps make better pilots. This applies equally to primary, advanced, and recurrent training, and to day-to-day flight operation for self-improvement, and for fun.
Watch the Video
Flight Training & Flight Practice
Student, CFI, or Pilot's Self-Improvment
Get an objective and quantitative review of your flight and apply the knowledge gained to the next flight.
Feature Highlights:
Segments list and declutter to focus on a specific maneuver
Pertinent graphs and stats
2D and 3D Track, displayed from any perspective
Segment Score, including problem areas
Flying For Fun / To A Destination
Pilots who enjoy reviewing airborne moments
Add a heads up display, embed one or two videos, overlay glass gauges, then set the time and watch as CloudAhoy replays your entire flight or skip to different legs of your route.
Feature Highlights:
Recorded video to play alongside your debrief
Flight deck view (synthetic vision)
Glass gauges
3D track view
Share your flight with friends and family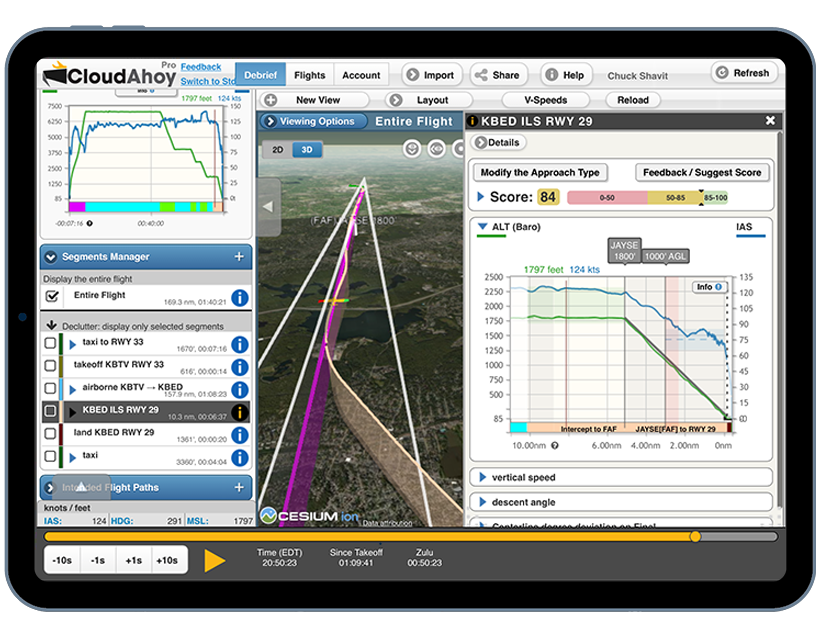 IFR Flights
Training & Currency
Ensure each flight is safer than the previous by checking your lateral and vertical accuracy, see how stabilized your approach was, compare your path to the published approach, and use color-coded 2D and 3D overlays.
Feature Highlights:
Auto identification of instrument approaches
Approach Score including problem areas
Decluttering to show only one approach
Display one or all transitions, plus feeder routes
iPad View debrief using a touch optimized interface
And much more!
Business
Flight Data Analysis
ForeFlight Flight Data Analysis lets you analyze and visualize aggregated fleet data, configure and customize what triggers an exceedance based on SOPs, and identify and isolate safety events. 
Feature Highlights:
Designed by pilots, for pilots
Customized exceedance parameters
Automated post-flight analysis emails
Anonymized flight reports sent to designated safety personnel
Secure and cost-effective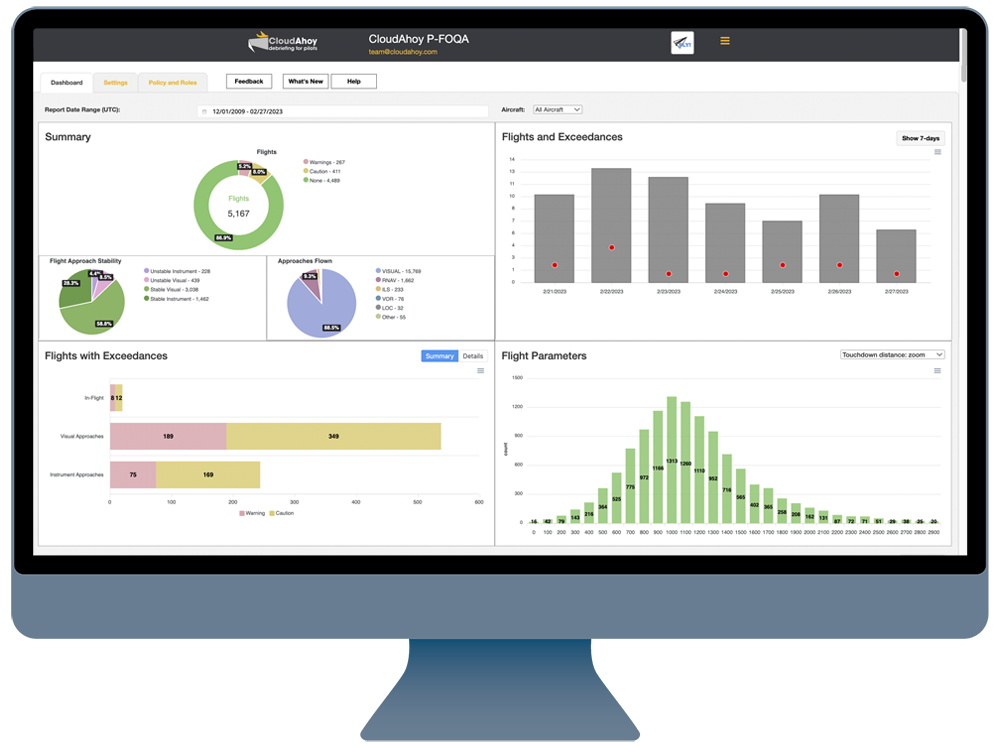 GIVE CLOUDAHOY A TRY WITH A 35-DAY RISK-FREE TRIAL. NO CREDIT CARD NEEDED.