GLOBAL SYNTHETIC VISION
Fly with more confidence in all conditions and terrain with this visually stunning and high-performance hazard awareness capability for iPad and iPhone. ForeFlight's Synthetic Vision uses Jeppesen's global high-resolution terrain and obstacle data sets, designed for use in certified panel-mounted avionics.
Synthetic Vision Arrives on iPhone
ForeFlight's advanced hazard awareness capability and backup attitude indicator is now available on the iPhone, and it looks fantastic! See detailed 3D terrain, obstacles, and runways in full screen Portrait or Landscape mode, and pair with an AHRS-capable ADS-B receiver like Sentry or compatible Garmin equipment for dynamic backup attitude and traffic display. The iPhone also supports Glance Mode, allowing you to swipe within Synthetic Vision to view terrain and traffic in any direction.
Available on all supported iPhones other than the iPhone 5, 5S, and iPhone SE (1st Generation).

Watch the video
Backup Instruments
ForeFlight Synthetic Vision provides a backup glass cockpit that can help you stay aware of your position and surroundings in normal and emergency operations.
WITH AHRS
With an AHRS capable device like Sentry, our Synthetic Vision feature really comes alive. Sentry's built-in AHRS drives a super responsive pitch and bank instrument in the center of the Synthetic Vision view. 
WITHOUT AHRS
Without AHRS, the center of the Synthetic Vision view on iPad displays GPS-derived ground speed, altitude, vertical speed, track, and an HSI display with course deviation indicator.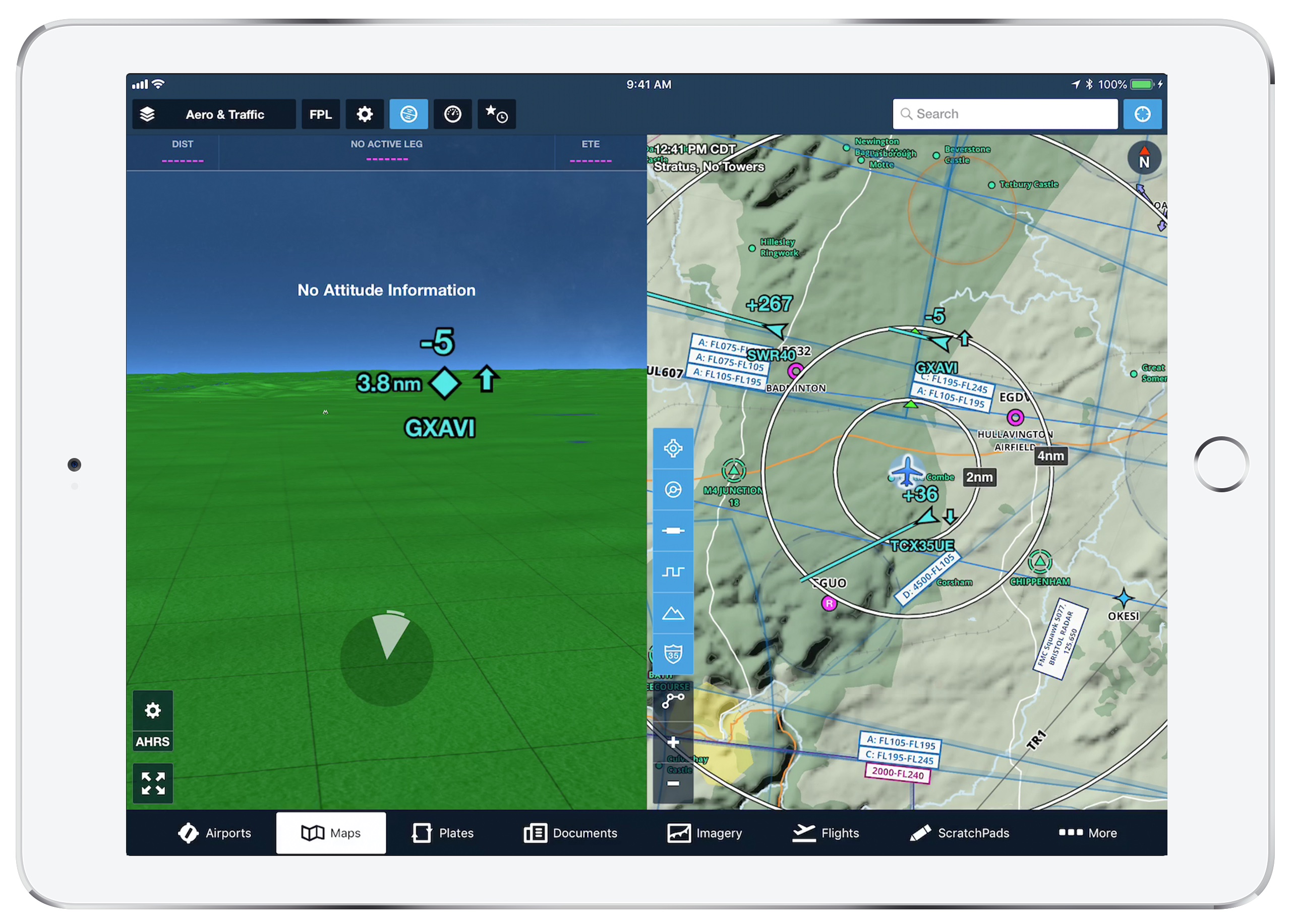 Integrated Traffic
Synthetic Vision goes beyond a simple terrain display by incorporating moving traffic targets when connected to a supported ADS-B receiver. Aircraft closer than 11 nautical miles appear in Synthetic Vision, along with information about their relative distance and altitude and call sign.
Interactive Glance Mode
Glance Mode transforms Synthetic Vision into a 360-degree view of the terrain, obstacles, airport runway configuration, and aircraft around your aircraft. Just swipe within Synthetic Vision to enter Glance Mode, and ForeFlight will automatically exit Glance Mode after 6 seconds without input.
Watch the Video
Flexible Views
Synthetic Vision works in both split screen and a beautiful full-screen mode. Both modes support portrait and landscape iPad orientations.
Plates Side by Side
Combine Synthetic Vision with a Plates on Map view for great situational awareness during an instrument approach. This is especially helpful for managing the workload during single pilot IFR operations.
Refined Terrain Highlighting and Contours
We've refined the terrain contrast for a luminous effect that improves the viewing experience in the cockpit. Shading from peaks to valleys gives depth and realism. East/West and North/South grid lines provide directional awareness and clearly define the ups and downs of rolling terrain.
Elegant Transition From Day to Night
To preserve your night vision, the transition from day-mode to night-mode gradually occurs over twenty minutes and is based on local sunrise and sunset data. The terrain dims and the stars begin to come out. When fully transitioned, enjoy a unique starry night.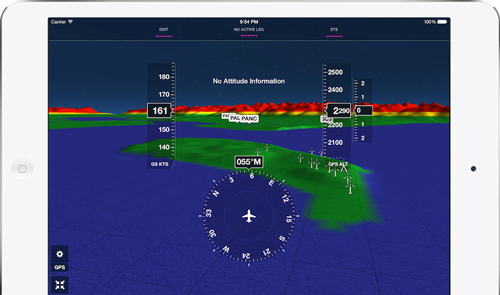 Realistic Runways
The airport markers and runways make it easy to find the airport on a hazy day, at night, or during an instrument approach. Runways are detailed with asphalt, grass, dirt or water texture and are prominently labeled with FAA-styled font.
Smooth, Hands-Free Declutter
Airport markers, obstacles, and runways automatically fade in and out of view based on aircraft altitude and distance to those objects. It's built-in declutter that proactively filters the screen for you — no button taps required.
Go Behind the Scenes
Go behind the scenes with Malcolm Toon, lead developer of ForeFlight's Synthetic Vision. Learn about the technical challenges, attention to detail, and some of the unique features that make ForeFlight's Synthetic Vision best-in-class and the most widely used iPad Synthetic Vision system in the world.